ZH4050 Fixed And Manual Welding Cloumn And Boom With Cross Side And Seam Tracker For Flange Welding
Application:

The automatic welding machine can weld metal containers and welded structural parts in various ways.

1Pressure vessels.
2Pipe manufacturing industries
3Wind power fabrication
4Chemical & fuel storage tank fabrication
5Any heavy cylindrical job
Product Parameter:

Model
Boom
Column
Traveling cart
Power KW
Vertical stroke(A)m
Horizontal stroker(B)m
Elevation speed m/min
Traverse speed m/min
Max load at extremity kg
Total height(C)m
Dimensions
(D)×(E)×H m
Rail c to c(F)mm
LH1515
1.5
1.5
0.3
0.12~1.2
100
2.9
1.25×1.2×0.2
1052
0.91
LH2020
2.0
2.0
0.3
100
3.4
1.25×1.2×0.2
1052
0.91
LH3030
3.0
3.0
1.0
200
5.5
2.4×1.9×0.4
1600
2.75
LH3040
3.0
4.0
1.0
200
5.5
2.4×1.9×0.4
1600
2.75
LH4040
4.0
4.0
1.0
200
6.5
2.4×1.9×0.4
1600
2.75
LH4050
4.0
5.0
1.0
200
6.5
2.4×1.9×0.4
1600
2.75
LH5050
5.0
5.0
0.9
300
7.8
2.6×2.1×0.5
1798
3.5
LH5060
5.0
6.0
0.9
300
7.8
2.6×2.1×0.5
1798
3..5
LH6060
6.0
6.0
0.9
300
9.7
2.6×2.1×0.5
1798
3.5
Product Description:

The welding manipulator can be 3 in 1 controlled together with welding power, welding rotator or positioner according to users' requirement.The column and boom adopts welding parts which adopts tempering post welding, then carry out fine machining which can ensure higher precision requirement.It has the advantages of good force on the guide seat, wide contact surface of the guide wheel, and stable and reliable transmission.The cross arm is also formed by rectangular tube, rectangular double guide rail structure, the material of the guide rail is 16Mn steel, and then machining after welding, which can ensure the straightness of the guide rail after processing and the stability of the equipment operation.It can be equipped with wireless remote control box according to users' requirement, which is convenient for operation.

Detailed Photos: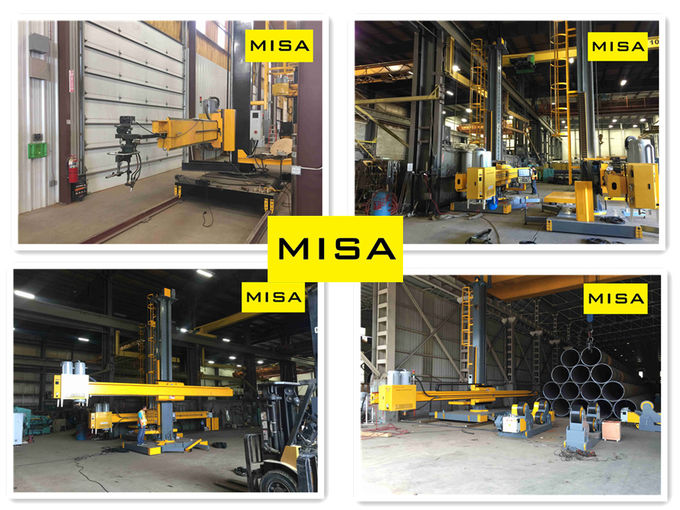 Festures:

Manipulator machine is composed of a column (including lifting mechanism, a sliding seat part, column slewing part, anti falling safety device and a balance weight), a boom (including rack and a transverse drive part), welding torch adjustment mechanism, column slewing mechanism components.The boom and the bracket are in a constant speed lifting, which is stable, uniform and safety coefficient is high, and the column is provided with a heavy balance device.Boom telescopic adopts gear rack pair meshing transmission, high transmission accuracy, no crawling, and no jitter.

Brand Using:

﹡Inverter is made in USA Danfoss / Taiwan Delta /Japan Yaskawa
﹡Motor Brand is UK Invertek /Taiwan Qinwei / Siemens
﹡Element is made by Schneider /Siemens
﹡Reducer is made by Kaibo/Guomao
﹡Wireless Control box is made by Taiwan by Yuding
﹡Bearing is made by NTN / Harbin
Packing And Shippment: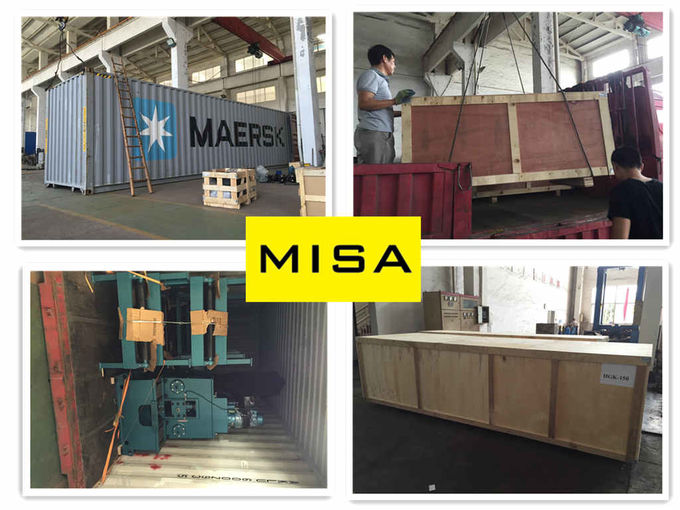 Related Products: