ZH2020 Fixed And Manual Cloumn And Boom (Manipulator) Witn SAW For Longitudinal Welding
Product Parameter:
Model
Boom
Column
Traveling cart
Power KW
Vertical stroke(A)m
Horizontal stroker(B)m
Elevation speed m/min
Traverse speed m/min
Max load at extremity kg
Total height(C)m
Dimensions
(D)×(E)×H m
Rail c to c(F)mm
LH1515
1.5
1.5
0.3
0.12~1.2
100
2.9
1.25×1.2×0.2
1052
0.91
LH2020
2.0
2.0
0.3
100
3.4
1.25×1.2×0.2
1052
0.91
LH3030
3.0
3.0
1.0
200
5.5
2.4×1.9×0.4
1600
2.75
LH3040
3.0
4.0
1.0
200
5.5
2.4×1.9×0.4
1600
2.75
LH4040
4.0
4.0
1.0
200
6.5
2.4×1.9×0.4
1600
2.75
LH4050
4.0
5.0
1.0
200
6.5
2.4×1.9×0.4
1600
2.75
LH5050
5.0
5.0
0.9
300
7.8
2.6×2.1×0.5
1798
3.5
LH5060
5.0
6.0
0.9
300
7.8
2.6×2.1×0.5
1798
3..5
LH6060
6.0
6.0
0.9
300
9.7
2.6×2.1×0.5
1798
3.5
Application:
The automatic welding machine can weld metal containers and welded structural parts in various ways.
1Pressure vessels.
2Pipe manufacturing industries
3Wind power fabrication
4Chemical & fuel storage tank fabrication
5Any heavy cylindrical job
6Cylindrical tank's welding, polishing, rubber lining, assembling ,etc
7Match up with other tools for welding or assembling for cone and section equality solid of revolution
8Customized special welding rotators according to client's requirements.
Product Description:
The column and boom adopts welding parts which adopts tempering post welding, then carry out fine machining which can ensure higher precision requirement.It has the advantages of good force on the guide seat, wide contact surface of the guide wheel, and stable and reliable transmission.The column is a rectangular beam with a rectangular double-rail structure. The material of the rail is 16Mn steel. The column is made of rectangular tube and machined after welding. The clamping method of the column and the guide seat is that each guide rail is clamped on three sides, which is more stable and reliable than the triangular guide rail.The cross arm is also formed by rectangular tube, rectangular double guide rail structure, the material of the guide rail is 16Mn steel, and then machining after welding, which can ensure the straightness of the guide rail after processing and the stability of the equipment operation.Also,The front end of the welding arm is equipped with an electric cross adjustment mechanism to align the welding gun to the position of the welding seam to be welded for easy adjustment.
Detailed Photos: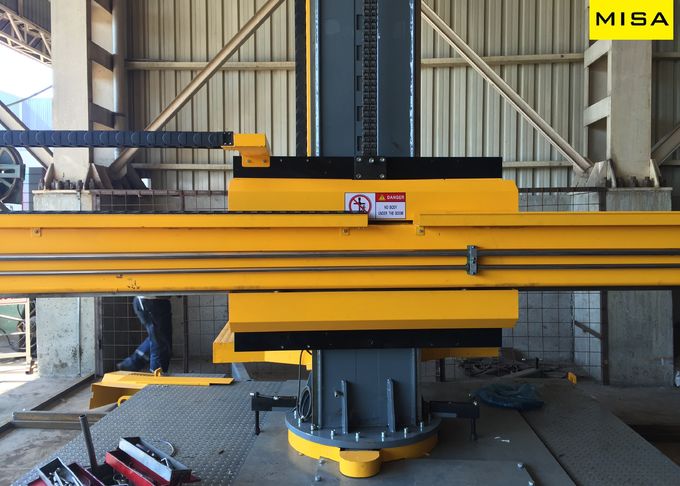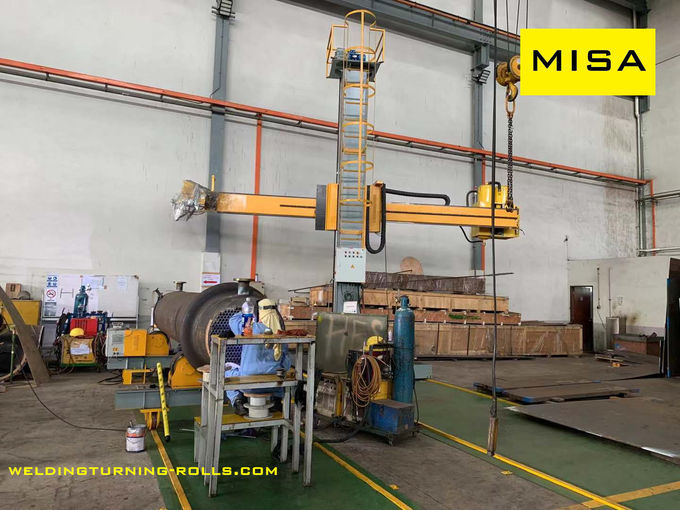 Features:
Manipulator machine is composed of a column (including lifting mechanism, a sliding seat part, column slewing part, anti falling safety device and a balance weight), a boom (including rack and a transverse drive part), welding torch adjustment mechanism, column slewing mechanism components.Boom expansion adopts AC motor variable frequency stepless speed regulation, the starting torque is big, and speed is steady. When network voltage fluctuation is 10%, the welding speed fluctuation value is not more than ±3%.The guide rail plate is vibration treated to eliminate stress after welded, and then through the plane, milling process to make the track, long service life, good stability.Column rotating is electric type can be ±180°rotation, and the side edge of the rotary support is provided with a manual locking device.The front end of the boom is designed with a manned basket.
Brand Using:
﹡ Inverter is made in USA Danfoss / Schneider
﹡ Motor Brand is UK Invertek /WEG/ Siemens
﹡ Element is made by Schneider /Siemens/Fuji
﹡ Reducer is made by Kaibo/Guomao
﹡ Bearing is made by NTN / Harbin
Packing And Shippment: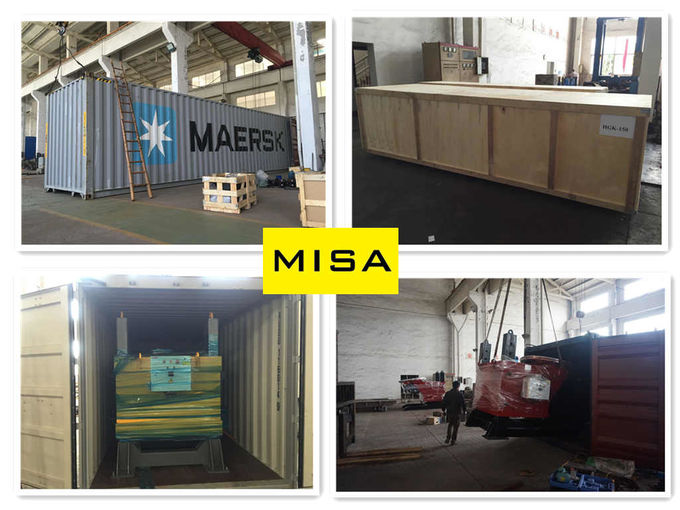 Related Products: