Description:
The rolls frame is classified into adjustable and self-adjustable types. Each set of rolls frame is comprised of a driving mount and a driven mount. Two worm reducers of the driving wheel is synchronous operation. The reducer is made up of frequency changing motor, frequency changer and etc., featured with low noise, stable turning of work pieces. When linear velocity of work piece turning is 6M/hour to 60M/hour, central distance of adjustable or self-adjustable rolls frame can be adjusted upon customers' demand. Clamp frame of the self-adjustable rolls frame can be self-adjusted with corresponding diameter of working pieces to save labor force and increase working efficiency.
Applications:
Welding Rotator major used in cylinder welding ,such as Marine,Oil&Gas ; Offshore,Petro Chemical ; Plate Heat Exchanger ; Charged air cooler ; Pressure Vessel ; Boiler ; Pipe system&Steel works etc.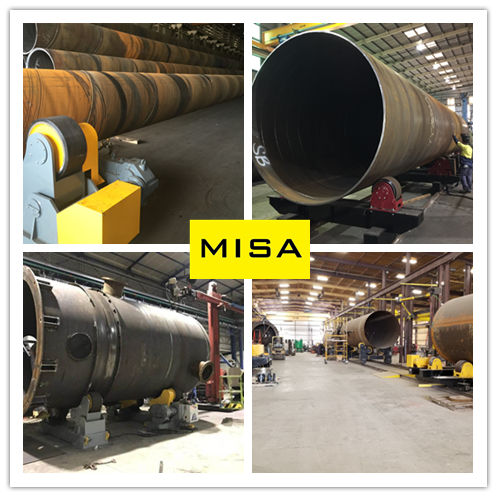 Quick Details:
Type:Welding rotator/Welding turning rolls/Pipe welding rotator
Brand:MISA
Condition:100% brand new
Model number:HGZ/HGK
Place of origin:Wuxi China(Mainland)
Usage:Welding
Voltage:110V-600V
Color:Yellow/Blue/Grey
Dimensions and weight:According to the model
Kindly Noted:
1. Model from 5T-100T, others please confirmed with us.
2. One set of welding rotator include one drive roller and one idler roller, also customer can choose 1 drive and 2 idler etc.
3. Voltage standard is 380V , 50HZ , 3PH. Other voltage please kindly let us know.
4. Control panel is wired control ,or you can choose wireless control.
5. If need more special requirements ,we'll study with our engineer.
6. The revolve adopt A.C. Inverter motor driving.
Specifications:
Type

Max loading (kg)

Vessel diameter(mm)

Dia. and width of the wheel(mm)

Roller linear velocity(m/h)

Power of motor(kw)

Adjustable mode for space

Way of setting

Rubber rollers

Metal rollers

HGK-2

2000

Φ250-1800

Φ200×80

2×Φ190×16

6-60

2×0.18

Manual screw adjustment or bolt shift

AC converter stepless speed adjust




HGK-5

5000

Φ250-2300

Φ250×100

2×Φ240×20

2×0.37

HGK-10

10000

Φ320-2800

Φ300×120

2×Φ290×25

2×0.55

HGK-20

20000

Φ500-3500

Φ350×120

2×Φ340×30

2×1.1

HGK-40

40000

Φ600-4200

Φ400×120

2×Φ390×40

2×1.5

HGK-60

60000

Φ700-5000

Φ450×120

2×Φ440×50

2×2.2

Bolt shift

HGK-80

80000

Φ700-5500

Φ500×120

2×Φ490×60

2×3

HGK-100

100000

Φ700-6000

Φ500×120

2×Φ490×80

2×4

HGK-150

150000

Φ1000-6000

/

Φ620×220

2×4

HGK-250

250000

Φ1000-7500

/

Φ660×260

2×5.5

HGK-400

400000

Φ1000-7500

/

Φ750×320

2×7.5

HGK-500

500000

Φ1000-8000

/

Φ750×400

2×11
Brand using:
﹡ Inverter is made in USA Danfoss / Taiwan Delta /Japan Yaskawa
﹡ Motor Brand is UK Invertek /Taiwan Qinwei / Chinese brand
﹡ Element is made by Schneider /Siemens
﹡ Wireless Control box is made by Taiwan by Yuding
﹡ Bearing is made by NTN / Harbin
Competitive Advantage:
1. All the bolt using 12.9 grade Bolt , not using 8.4 grade. Making the machine more stronger.
2. 20 % overweight design , could making the rotator focus more.
3. Double motors and reducers , and if the workpiece stress is different ,could ensure the rotator working properly, and longer service life.
4. Double row wheels ,not only making the wheels stable, but also artifacts to increase friction.
5. All the parts using well-known brands in China or other countries . Quality is more reliable .
6. Using double row bearings.
7. The base of rotator welded by plates, with high strength, no deformation after long time using.
Why always MISA?
360°guarantee makes ordering risk free.
20 years welding machine manufacture experiences.
one-stop service of welding.
OEM service.
Quickly feedback for your problems.