50 Ton Welding Rotator HGZ-50- MISA WELDING
MISA Welding Rotator

Self-aligning welding rotator
Engineered to make automated adjustments to accommodate the rotation of workpieces with various weights and diameters. Our self aligning rotators and turning rolls further enhance; operator safety, productivity, weld quality and reduce worker fatigue. Self aligning welding rotators are the preferred option when working with thinwall workpieces.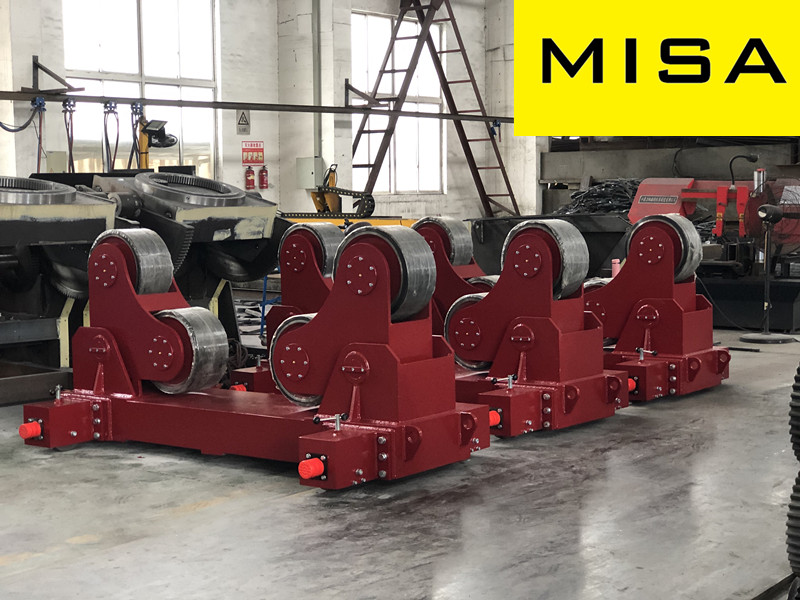 Conventional Welding rotator
Our heavy duty, built to last conventional rotators and turning rolls are designed and manufacttured to tolerate the hardest, hard-wearing and unrelenting workload environments . The powered drive units are controllrd by a five-function pendant with a variable speed potentiometer, giving the operator full control of the rotating workpiece.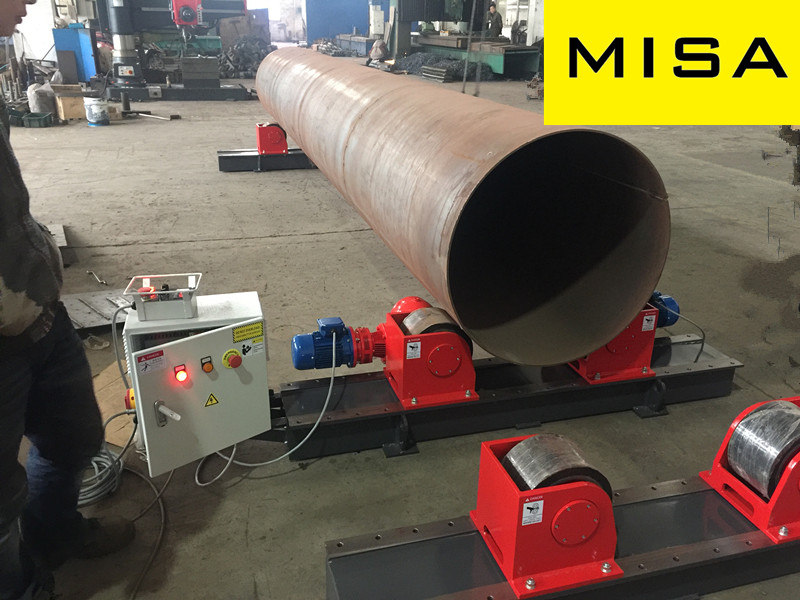 What is a Welding Rotator?

The welding rotator is an auxiliary welding device, which uses the friction between the weldment and the active roller to drive the cylindrical (or conical) weldment to rotate. It is mainly used on a series of large machines in heavy industry. The machine is composed of a base, an activepipe , a driven rotator, a bracket, a transmission device, and a power device drive. The transmission device drives the active roller and uses the friction between the active rotator and the cylindrical workpiece to drive the workpiece to rotate to achieve displacement, which can realize the horizontal position welding of the inner and outer circumferential seams of the workpiece. The supporting welding robot can realize automatic welding, which can greatly improve the welding. Seam quality reduces labor intensity and improves work efficiency. The machine can also be matched with manual welding or as a device for detecting and assembling cylindrical workpieces.
Why Do We Need Welding Rotator?
When performing a weld on a pipe or cylindrical work piece, usually the weld must cover the circumference of the pipe evenly. It's also important for the weld to be of a high quality and strong, as a lot of pressure could be put on the pipe depending on what the final work is meant for.
When pipe welding is done by hand, the welder must move around the pipe slowly as they carry out the work. Without something like a Bode welding rotator, this is difficult and necessary work in order to get the correct weld. Using a pipe turning rolls enables the tank/vessel to be turned at desired speeds enabling the welder to carry out the work far easier & more efficiently, giving a higher quality weld to form roll steel tubulars.
Welding rotators are usually arranged in sets including a pair of identical rolls, one of which is rotated by an electric motor through a reduction gear box, known at the powered or drive unit while the other is idle, so arranged that the distance between the rolls can be adjusted to accommodate cylinders of different diameters, and mounted on a fabricated frame of simple shape. Usually a pair of such frames must be arranged on the shop floor at some distance from one another, to accept the cylindrical body in need of welding. Weight capacity and diameters that can be supported are the major parameters that define welding rotators. Other characteristics involve wheel and surface materials, power and surface speed available. The free turning of the part on the rolls should be ascertained before the start of the welding operation, to verify that no protrusions interfere with the motion. Also the longitudinal weight distribution should be checked to prevent overloading. Special attention should be paid to avoid instabilities that may cause the work piece to overturn. Minute inaccuracies of positioning may involve translation of the work piece along its axis. None parallelled or out of square turning rolls may cause drag forces that tend to move the work piece unpredictably. Welding rotators are supplied with steel, rubber or polyurethane wheels.
Can You Make a DIY Welding Rotator?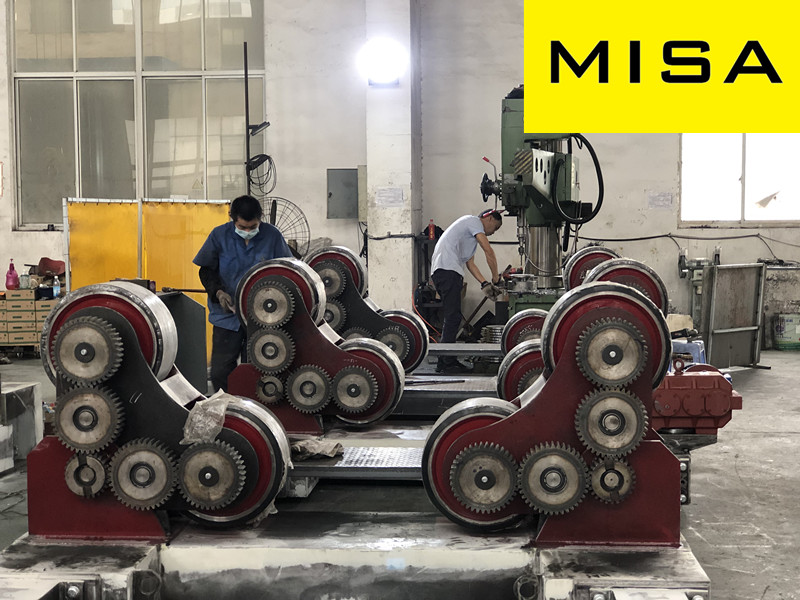 MISA has designed and manufactured a catalogue of innovative and accomplished welding automation products, along with exclusive engineering solutions for customers all over the world. With our comprehensive in-house capabilities, advanced design technology and manufacturing expertise – we have total control of production and ability to meet our customer's requirements.
Is it Safe to Purchase Used Welding Rotators For Sale?
Just like any other item or equipment, it's safe to buy pipe rotators that have already been used.
An example of a welding positioner that has previously been used
However, you have to look at too few factors about what you'll purchase, too. These factors include:
1.Status or Condition of Pipe Rotator
Check the wheels of the Pipe rotator and see if it's already worn out. Although this particular component is replaceable, it'll still add up to your costs, right?
One way to determine if the wheels are in good status is to rotate it without a workpiece. If it jitters and vibrates, you might have to look at the gears behind it. Otherwise, they'll be good to go!
2.How the Welding Rotators Are Used
Many companies and businesses overuse welding rotators by using it other than their primary purpose. For instance, if they've been used for heavy-duty applications where the weight and the size of the workpiece exceed the threshold of the pipe rotator, there's a big possibility that its gears are already worn out.
3.Price and Rate
You can also check and assess the rate and the price of the used welding rotator. Try to place it side-by-side with a brand new pipe rotator and observe if the price difference is substantial.
If it is, conduct a thorough inspection of all the parts and assess their condition.
That brings us to our next question, which is…
Welding Rotators vs. Welding Positioners
Now comes the big question – the question that almost everyone gets confused at. What's the difference between a welding positioner and a welding rotator?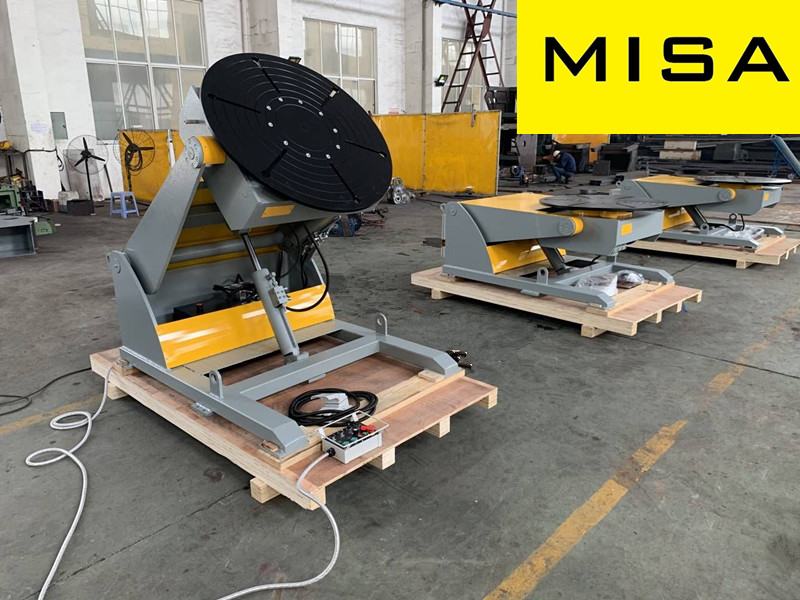 A sample image of what a welding positioner looks like
A Pipe welding rotator is a type of machine that can help automate your welding. You can use it for items and workpieces that are cylindrical or round in shape to rotate, twist, and spin it automatically, allowing the welding head to be stagnant in just one (1) position.
On the other hand, a welding positioner is an auxiliary welding equipment that can rotate, reposition, and realign the workpiece. With a welding positioner, it can allow the welder to just remain in a single place while welding, without going back and forth to achieve the desired position.
Pipe Welding rotators rotate workpieces, parts, and components; welding positioners reposition it so that the welder exerts less effort.
Can You Trust MISA's Welding Rotators?

Being the best in the pipe rotator manufacturing and production industry, yes, it's safe to say that you can definitely place your full trust in Weld Fab for all your pipe rotator needs.
Our company was successful in combining research & development, to sales, marketing, and even the inculcation of advanced machinery and equipment.
Wherever country you are in and whatever type of business you're involved in, you can always bank and trust us here at MISA to guide and assist you!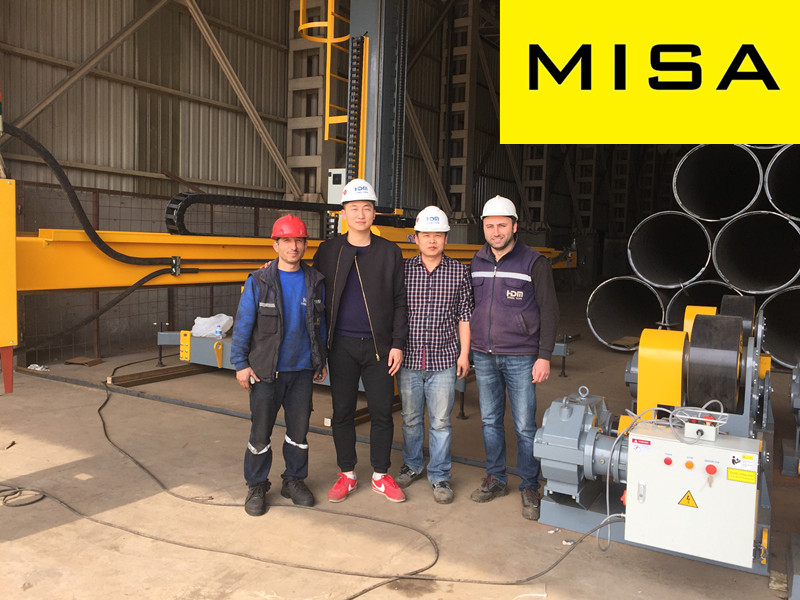 Other Products We Offer

Apart from our pipe rotators, you can also entrust the production of other welding equipment to us such as CNC gantry milling machines, drilling machines, lathes, welding positioners, and many more!
We're equipped with the most skilled, experienced, and adept staff members comprised of experts and professionals in the electrical, welding, production, and even assembly sectors!